Perhaps you're responsible for the entire business, and your team IS the firm. Or your team is part of a larger organization. Maybe you are new in the role, or new to the team. Are you picking up a lack of job satisfaction? Are you heading towards extraordinary challenges such as tough goals, working on the distance, many new colleagues – or colleagues leaving, organizational change, new clients, other challenges?
Get help to create motivation and job satisfaction. I work with leaders, HR-team or workers' representatives to establish a project along these lines: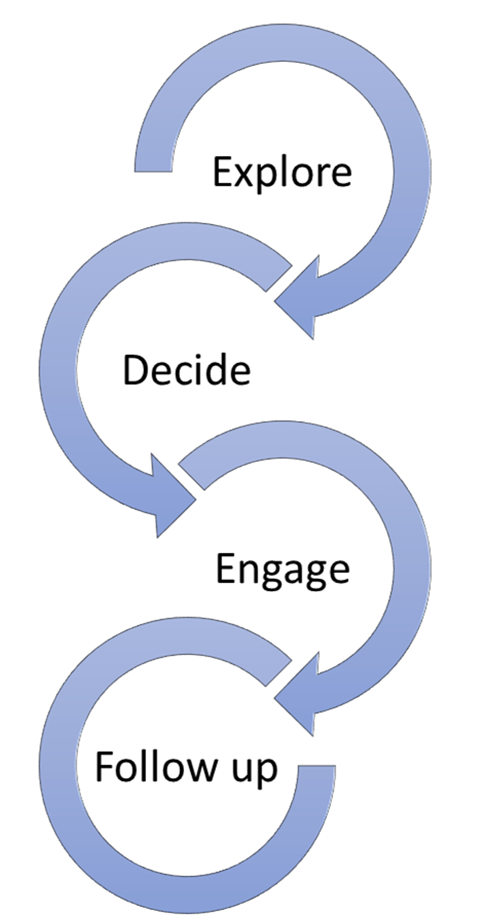 In the Explore phase we take the proverbial temperature. We measure job satisfaction, energy levels or psychological safety – all depending on the situation. The measurement, combined with interviews of key staff and leaders, creates the foundation for our work; and in parallel, it helps driving a common language for thriving and safety.
Decide: we dive into the results, together with the team. What's more important? Where should we start? How do you prefer to work with change? We employ structured and dynamic workshops to generate clear results, mobilizing interest and support in the process.
In the Engage-phase we execute on our decisions and implement the change most relevant to your situation, and in a format that works for you. We work in a low-dosage approach – small interventions over a period – it will create more permanent change. We can train ability to give and receive feedback, improve your conflict handling skills, or improve delegation and support. We can also work on your way of communicating, organizing and allocating resources, areas frequently causing much stress and insecurity.
We Follow Up after a couple of months, to check that our efforts were worthwhile and to learn how to maintain momentum.
Reach out for a first conversation and to check if the chemistry works.